Tribbles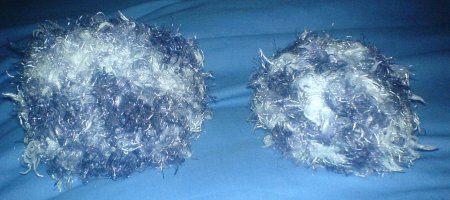 By far the easiest pattern you will see in a long time. The hardest part will be finding the right yarn! You'll need a particularly fluffy fancy yarn. I prefer the Wilkinson's Soft 'n' Fluffy fancy yarn, but there are others out there.
And once you've made one, you'll have to make more!
Items needed
Fluffy fun-fur type novelty yarn
Needles slightly larger than the band says, but not much larger
Tapestry/sewing needle
Toy stuffing
Pattern
Cast on 20 stitches, or the size you want your tribble to be.
Knit 20 rows, or the amount of rows necessary to have a square.
Cast off and sew up, leaving a hole large enough to turn it inside out.
Turn it inside out loosely, making sure the corners stay in and it looks round-ish.
Stuff, not too firmly, and sew up the hole.