Pentas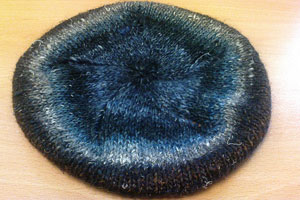 A simple beret which, through very loose knitting two together and the gentle striping of Noro Silk Garden, has a lovely pentagon effect at the top. It's named after Pentas Ianceolata, a five-petaled flower that I used to plant during my time at the Tulane University greenhouse.
You'll need to know how to knit in the round (either on circular or double-pointed needles) and how to knit two together.
Items needed:
Noro Silk Garden (shown here in #201), or another Aran/Worsted weight yarn
4mm/6 (US)/8 (UK) circular or double-pointed needles
A row counter
Five stitch markers
A tapestry/sewing needle
Tension
5 inches/12.5 centimetres = 20 stitches and 25 rows
Pattern
Cast on 100 stitches.
Join together, placing stitch marker at join.
Knit 10 rows in knit 2, purl 2 rib.
Knit 15 rows.
On Row 16, knit 18, knit two together loosely, then place a stitch marker . Repeat four more times, so that you have your stitches evenly spread into five sections.
The stitch between the last regular stitch and the knitted-two-together stitch should be loose.
On Row 17, knit until the last two stitches before the marker, and knit those two together. Repeat for each stitch marker.
Repeat Row 17 thirteen more times, until you have 40 rows and 6 stitches between each marker.
Cut the yarn, leaving a long tail, and, using your needle, run the working yarn through the live stitches. Pull the yarn tight and sew firmly.
Hand wash and lie on a flat surface with the top of the hat upwards to dry.
Wear and enjoy!